Omniture to Adobe Analytics: Adobe's transition in data after a decade
Omniture to Adobe Analytics: Adobe's transition in data after a decade. Adobe has strategically acquired over 50 companies in an effort to further its vision as an industry-leading digital experience company. In particular, we can see one move as a catalyst for the growth and ongoing success of Adobe.
Adobe CEO Shantanu Narayen and his team announced 10 years ago the acquisition of Omniture, now known as Adobe Analytics, a leading online marketing and web analytics business.
At the time, some industry experts doubted the acquisition but Narayen responded in an official statement:
He highlighted, "An integrated workflow — with optimization capabilities embedded in the creation tools — will streamline the creation and delivery of relevant content and applications for designers, developers, and online marketers." The acquisition marked the start of a new digital future.
Creating a New Digital Future
Omniture was Adobe's first major move to build the industry's leading cloud software company. The solution Omniture developed and soon became known as Adobe Analytics. The offer is based on a recognized need to create experiences based on end-user preference and offers a set of tools that can build, manage, measure and optimize digital experiences.
The deal was completed 9 months before Day Software was purchased, which later became Adobe Experience Manager (AEM) leading the foundation of the Adobe Experience Cloud.
Soon after the acquisition, Adobe Analytics, including partner certifications and specializations, was added to Adobe's education program.
Our team members also recognizes the importance of data. We collectively earned the number of certifications required to achieve the specialization of Adobe Analytics.
Partners with this specialization gets recognition throughout the Adobe Analytics platform for achievement in technical expertise, implementation skills, and customer success.
From Omniture to Adobe Analytics
Omniture to Adobe Analytics: Adobe's transition in data after a decade. Over the years, the core concept of the analytics offering has not changed, but AA has facilitated significant, industry-leading upgrades in an effort to remain one of the market's best commercial analytics tools. These advancements include:
Adobe and its partners continue to use Adobe Analytics to build the necessary integration of creative, content, and data. The continuing effect of the acquisition of Omniture & Adobe Analytics ' rising position across the Adobe Experience Cloud will play a major role as the industry looks to Adobe's future.
Customer Journey Analytics brings together customer data across touch-points
Analysis Workspace capabilities provide an easier interface for exploring data
Native integration with Adobe Target and Adobe Audience Manager
Contribution Analysis and Anomaly Detection with Adobe Sensei
DTM acquisition which is now Launch results in the elimination of on-page analytics implementation, Adobe's next-generation tag management solution
Our team has seen, introduced & continued to track changes in the way we collect/interpret data & the role these results play in assessing & maximizing positive digital interactions with the top-of-mind advances.
Over the past 10 years, data collection, analysis & measurement has seen impressive progress and will continue to become increasingly important to the success of the digital journey of end-users.
Prior to Adobe Summit 2019, we conducted an independent survey to determine the common usage of Adobe platforms by attendees. Summit covers topics across the Adobe Experience Cloud. However, Adobe Analytics led the pack, further proving its industry-wide value.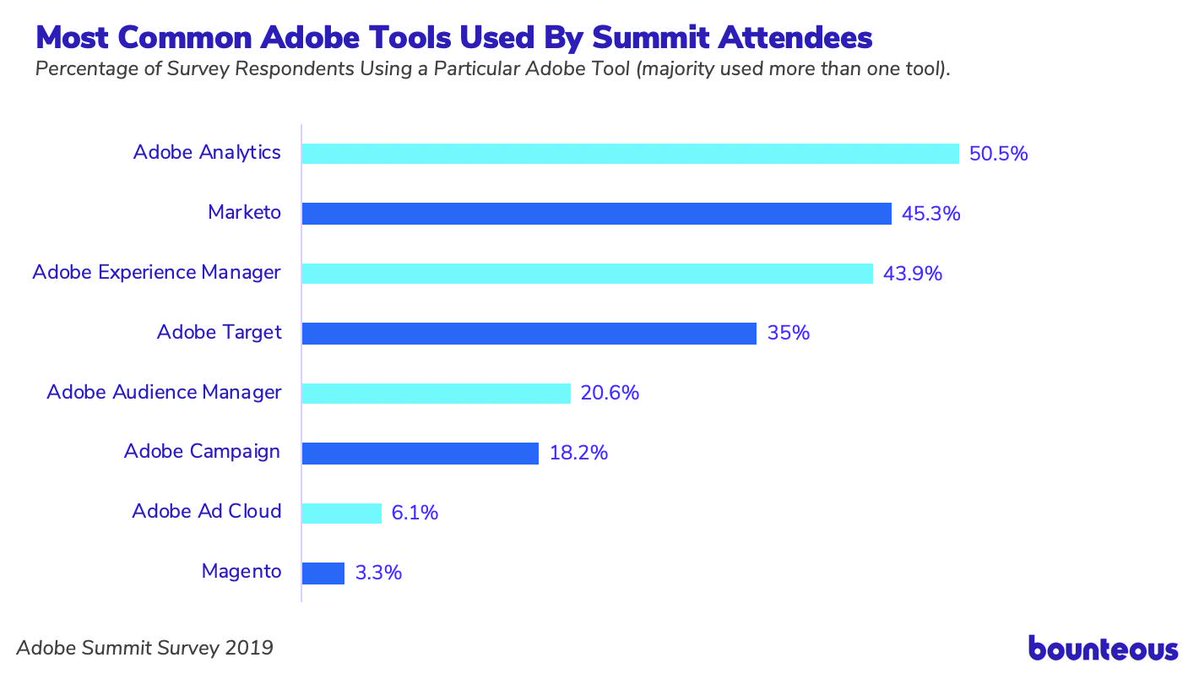 A Greater Ability to Personalize
The industry faces endless amounts of data siloed across many different solutions as businesses aim to measure & impact digital travel.
Adobe Sensei driven data science capabilities rapidly analyze the available data, recognize trends, and determine which information is most useful in helping users manage their data efficiently:
By doing so, brands can understand and communicate with consumers on a very personal level
With this data marketers must capture and integrate their preferences through touchpoints by order to continue driving growth. Identifying the most valuable data and using the different ways in which Adobe Analytics feeds into other Experience Cloud tools.
Looking to the Future
Adobe Analytics platform's core concept remains unchanged, but its operational infrastructure is continually improving and expanding to satisfy the needs of consumers.
We are excited about Narayen's path and his team has chosen to continue supporting and impacting the future of the role of Adobe Experience Cloud and Adobe Analytics in measuring, personalizing and optimizing industry-leading digital experiences.
Thank You 🙂
Need help with Digital Analytics? Get in touch: